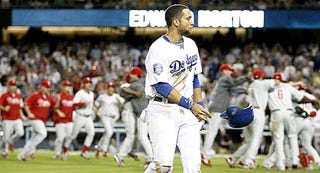 What they're saying out in the ether about the Phillies' 5-1 win over the Dodgers in Game 5 of the National League Championship Series ...
•
But At Least I Have A Husband
. (2008-10-15 3:40 p.m., PST) I just want to tell you all good luck. We're all counting on you. [
Dodger Thoughts
] •
Farewell, Condolences And Many Happy Returns
. (2008-10-15 9:55 p.m., PST) In a series in which not enough went right, on a night when almost nothing did, I still found myself nursing hope in the ninth inning. And then once again, a fly ball from the Dodgers went all the way to the wall without going over. And that told the story. [
Dodger Thoughts
]•
Your 2008 National League Champions
. As hard as it may be to believe, the Philadelphia Phillies are the National League representatives in the World Series. Pinch yourself to validate that this is not a dream. [
Crashburn Alley
] •
Phillie Phun Phacts
. So we're here to introduce you to the Phillies with some fun facts about their entire roster. Enjoy. Cole Hamels — The youngest player on the team at 24, Hamels is married to a former reality show contestant, Heidi Strobel. Strobel, a former Survivor: The Amazon contestant, placed fifth on the show. She also agreed to get naked for peanut butter and Oreo cookies during one of the competitions and was featured
in Playboy
. By comparison, when Jamie Moyer was 24, Walter Cronkite was the world's biggest reality TV star. [
Rumors & Rants
] •
The New Face Of The Dodgers
. It ain't Manny... though this gentleman did have his number. I made the mistake of fist bumping him. Now my hand looks like I knocked out a smurf. [
Sons Of Steve Garvey
] •
World Serious
.
Dodgers fans are terrible
. I actually saw a trail of tail lights in the parking lot in the fourth inning. No joke. Dodgers fans were leaving the game in the fourth inning. Even at their loudest, they couldn't match the enthusiasm I've heard in Philly in the NLDS and NLCS. [
The Phillies Zone
] •
Somewhere, Todd Hollandsworth Sheds A Tear
. ESPN has erased him from
history
! [
Mike Scioscia's Tragic Illness
] •
Mayor Nutter Celebrates In Style
. I'm pretty sure the entire city is still drunk from last night's amazing celebration. You'll be happy to know Mayor Nutter was in on the activities and flashed some of his sick dance moves.
Check out this FOX video
of Philly's great Mayor Nutter busting a move. Much, much more throughout the day and email us anything and everything Phillies related today. [
The 700 Level
]